I already know from experience that I can't cope with long dark days in winter, but visiting northern latitudes in summer is a real treat.  Particularly when the scenery is spectacular enough to attract a World Heritage site designation.
The run from Oslo to Bergen is pretty dramatic even on the fast route.  Once one decides to take the scenic trail (roads 7 and 50) the wow factor goes into overload.  There we were at 1200m with a partially ftoven lake and snow fields coming down to the water's edge a mere 10 days from the Summer Solstice, or the 500m switchback down a precipice with the turns dug into tunnels in the cliff face…
Anyway we stopped in Aurland, and the hotel manager waxed lyrical about various viewpoints, and a not to be missed ferry trip up the Nærøyfjord leaving from the jetty at 09:15.
The day was slightly hazy to start with, but rapidly improving
By the time one has set the polarising filter on the front of the lens the resulting raw files look like HDR processing — so much so that I though you might enjoy a comparison.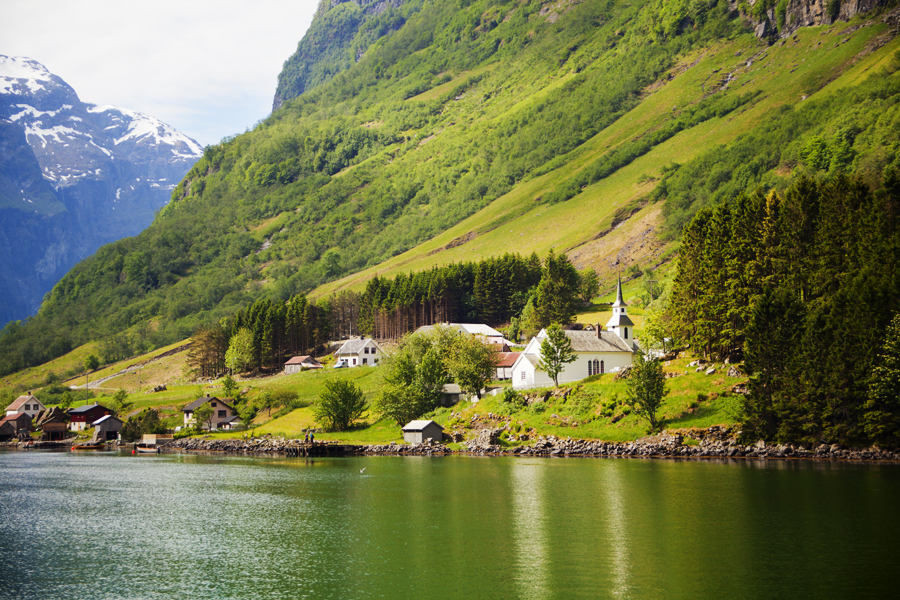 The other photo looks extremely simmilar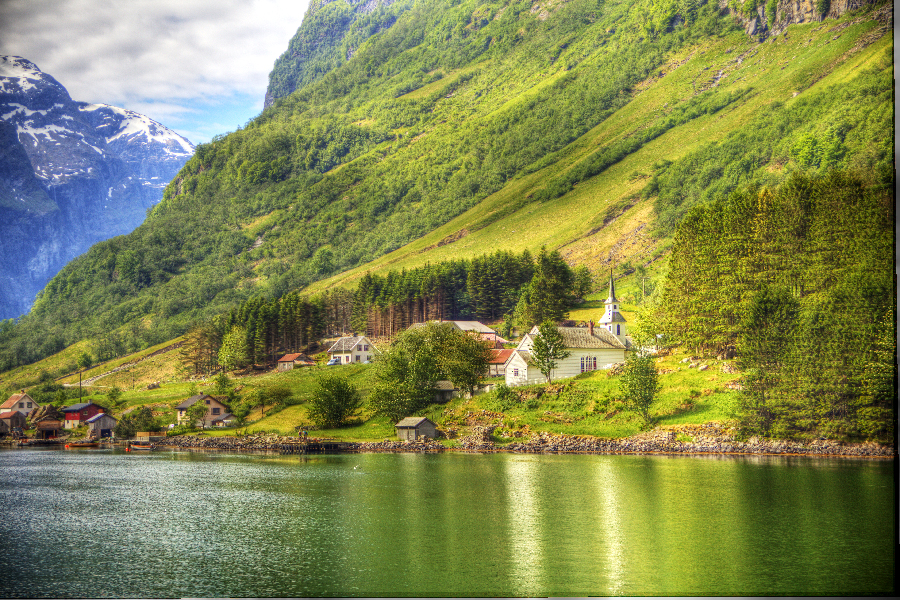 And finally a third offering of the same image.  Which do you rate?
The actual information is available when you click for the full story,  All files were processed full size then shrunk for the blog in Photoshop with "Nearest Neighbour" processing
Image 1 is the normal exposure from a group of 3 bracketed by 2ev for HDR processing
Image 2 is HDR processed with Photomatix
Image 3 is HDR processed with Photoshop CS5 HDR Pro
Both HDRs give better sky, better rendition of the dark mountainside, and the trees to the right, but the village is tack sharp in image 1, but there is distinct softness in image 2.  I'll personally go with 1 or 3, after running this test, despite the way the CS5 stack batch processing does not behave quite how one might wish, and the significantly better sky from Photomatix.