On Saturday July 24th I'll be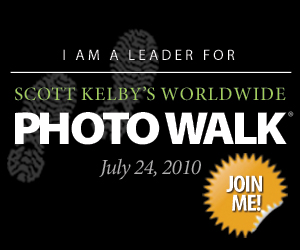 leading the Bishop's Stortford photowalk, part of the worldwide photowalk. I'm expecting it to be great fun, and a great chance for us all to show off how fine Bishop's Stortford is.
Scott Kelby, prolific author, is offering a prize of one of his recent books on Lightroom 3 or Photoshop CS5 for the best local photograph, and we also hope to offer the author a fairly large print of their winning photograph locally.  The local winner also gets entered into the worldwide contest for a $1000 photo equipment worldwide first prize (and lots of runner up prizes too…).
The prize is great, but the main aim of the day is to get local photographers together to share their enjoyment and enthusiasm, maybe offer mutual help and encouragement…  All levels of photography experience are welcome, all equipment from camera phones through point-and-shoot cameras, DSLRs to stand cameras with sheet film backs will take pictures — bring what you're happy with.  Any one of these might take a great photograph, guided by your imagination and eye as the photographer.
I look forward to seeing you on the day!